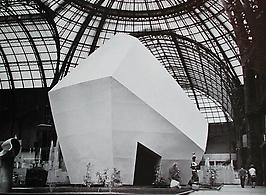 L'École de Paris
The School of Paris (1900-1975) consisted of an unprecedented succession of groundbreaking artists whose avant-garde spirit revolutionised Western Art. Hanina Fine Arts is London's leading specialist in the inter and post war period.
After the First World War previous non-figurative developments were discarded, and there was a return to figuration in an effort to regain a sense of stability in society, and this cynical opposition towards non-figurative art remained dominant throughout the twenties. But in 1929 Joaquin Torrès-Garcia and Michel Seuphor founded the Cercle et Carré group which brought together artists who still believed in abstract art, and in 1930 Theo Van Doesburg published his Manifesto of Concrete Art. But despite their efforts, these groups struggled to gain recognition, until 1931 when Auguste Herbin united the abstract cause by founding Abstraction-Création, an assertive campaign of international avant-garde exhibitions and publications that would finally overcome the European resistance to this new form of art.
Based in the back courtyard off the Avenue de Wagram in Paris, the Abstraction-Création members initially included artists such as Auguste Herbin, Georges Valmier, Jean Arp, Alfred Reth, Georges Vantongerloo, Frantisek Kupka, Leo Leuppi, Max Bill, Robert Delaunay, Alfred Gleizes, Serge Charchoune, and by 1936 there were 400 members internationally that included British artists Barbara Hepworth and Ben Nicholson. By this time war was again on the horizon and Europe in the depths of economic depression so inevitably the group was disbanded. But its accomplishments had already succeeded in influencing the course of history by convincing society of the value of Abstract art.

During the period of the Occupation and the Vichy government Abstract art was condemned as Degenerate Art and strictly prohibited, and this heightened the association of abstraction with liberation. Despite the prohibition a group of young artists staged two highly subversive exhibitions during this time. The group, initially known as Témoignage, was formed by Marcel Michaud. The first exhibition, organised by Jean Bazaine and André Lejard at Galerie Braun in 1941, was Peintres de la Tradition Française, it included Gustave Singier, Jean Le Moal, Jean Bazaine, Alfred Manessier, Edouard Pignon, Leon Gischia; and the second, Douze Peintres D'Aujourd'hui, was in 1943 at Galerie de France.

Following this intense period of crisis, society was disorientated and past conventions were viewed with powerful scepticism. A loss of faith lead to an existentialism threatening to saturate society that was rocked by the philosophical writings of Heidegger and Nietzsche. In Paris, congregating in St Germain de Prés in 1946, Merleau-Ponty published his existentialist work Phenomenology of Perception, and Jean-Paul Sartre launched his influential journal Les Temps Modernes.
Several landmark exhibitions during this period defined the next few years; the first was Art Concret at the Drouin Gallery in 1945, and included Kandinsky, Herbin, Magnelli, Pevsner and Cesar Domela. The same year the Drouin Gallery also exhibited Fautrier's Ottages, and Dubufffet's Personnages which gave birth to Art Brut. But at the same time, a new, younger generation of artists was also emerging. Camille Bryen and Georges Mathieu were experimenting with Tachisme, and in 1947 organised the historic exhibition L'Imaginaire which included Hans Hartung, Raoul Ubac, Jean-Paul Riopelle, and is credited with founding the Abstraction Lyrique movement, (known as Abstract-Expressionism in America), this was further established by a second group exhibition famously titled "HWPSMTB" referring to the participants Hartung, Wols, Picabia, Stahly, Mathieu, Tapié, Bryen, held at Galerie Colette Allendy in 1948. This became the dominant movement by 1950, and came to include De Stael, Andre Lanskoy, Schneider, Soulages, Viera da Silva, Poliakoff, Riopelle, Jacques Germain, and John Levee.

In contrast to the gestural style of Lyrical Abstraction there was an opposing group of avant-garde artists who believed in Geometric Abstraction, and this was championed by Auguste Herbin, Jean Deyrolle, and Edgard Pillet who founded the influential Atelier d'Art Abstrait on the premises of the Academie de la Grande Chaumiere.
After the Second World War the legacy of the Abstraction-Création group had re-emerged at the same venue which again became the bastion of the avant-garde as the location for the Salon des Réalités Nouvelles, founded in 1946 by Fredo Sides, which was highly influential in promoting post-war Abstraction, along with the Salon de Mai founded in 1945. But final recognition must be given to the art dealers who's support and dedication brought these artists to the attention of the world, most notably Denise René; Louis Carré; Jeanne Bucher; and Colette Allendy.
VIEW OUR HISTORICAL PHOTO ARCHIVE OF THE ARTISTS AND EXHIBITIONS
MUSEE NATIONAL D'ART MODERNE, CENTRE POMPIDOU, PARIS