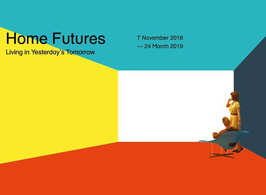 Lagrange | Home Futures
7/11/18 - 24/3/19 Design Museum, London
Jacques Lagrange's satirical modernist design for Jacques Tati's "Villa Arpel" in his famous film "Mon Oncle", forms a highlight of the Design Museum's exhibition exploring today's home through the prism of yesterday's imagination:
Are we living in the way that pioneering architects and designers throughout the 20th century predicted, or has our idea of home proved resistant to real change? The 'home of the future' has long intrigued designers and popular culture alike. Immerse yourself in a series of dreamlike passages and rooms designed by New York-based architects SO-IL and explore yesterday's visions of the future – as avant-garde speculations are displayed alongside contemporary objects and new commissions.

Discover more than 200 objects and experiences to trace the key social and technological aspirations that have driven change in the home. Historical notions of the mechanised home and the compact home are displayed alongside contemporary phenomena such as connected devices and the sharing economy.

New York-based architects SO-IL have created an immersive environment that will feature experiential areas, such as a garden which invites visitors to rest and interact. You can find more highlights from the exhibition below.

• A functioning model of the ultra-modern, machine-like house that works against its inhabitants – Villa Arpel from Jacques Tati's 1950s satirical film, Mon Oncle.
• An original 1963 Mini Kitchen and an original model of Total Furnishing Unit by Joe Colombo, the compressed inhabitable unit from 1972 where you could live in just 28 square metres.
• Original furniture from the Smithsons' fully-mechanised House of the Future from 1956's Ideal Home Show at Kensington Olympia, accompanied by a scale model and original archival material.
• A major new commission by the Design Museum titled A Family of Objects by Belgian design studio OpenStructures. A collection of open-source, modular furniture produced in collaboration with four industrial producers, including furniture prototypes and hacks.
• Works by leading artists who took the home as a space of experimentation – Heath Robinson, Richard Hamilton, Linder, Martin Craig-Martin, Andrea Zittel, and Absalon.
• Original sketches, films and photographs outlining past futuristic visions of what today's home could have been. From the Smithsons' automated House of the Future, to Hans Hollein's Mobile Office and original works by Superstudio and Ettore Sottsass proposing more nomadic ways of life, to smart devices and more.
• An interactive installation by Swiss designer Dimitri Bähler that looks at the relationship between man and machine.
• Key furniture designs and installations dating back to the 1970s to the present will be made interactive for this exhibition.