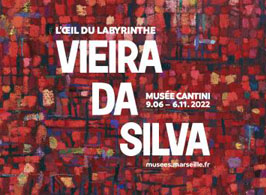 Vieira da Silva in Marseille
9/6/22-16/11/22, Marseille
"Vieira da Silva, l'oeil du labyrinthe"
A major retrospective of the work of the internationally renowned artist of Portuguese origin Maria Helena Vieira da Silva (1908-1992) at the Musée Cantini, with the support of the Gulbenkian Foundation, Dijon museums and the Jeanne Bucher Jaeger gallery.
The exhibition, made up of more than eighty works, illustrates the key stages of the artist's career marked by a relentless questioning of perspective, urban transformations, architectural dynamics and the musicality of the pictorial touch.
On the occasion of the thirty years of the death of this immense artist, the exhibition at the Cantini museum illustrates the importance of Maria Helena Vieira da Silva in the reinvention of modern art and the contemporaneity of the concepts she raises.