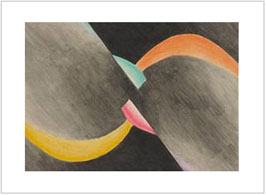 Survage "Les Rythmes Colorées"
Groundbreaking 1913 abstract film realised.
Survage was acclaimed by Apollinaire and Léonce Rosenberg as a visionary. Born in Moscow in 1879, he formed the Symbolist group "The Blue Rose" with Archipenko, Larionov, Pevsner in 1905; and in 1910 exhibited with the historic "Knave of Diamonds" society with Kandinsky, Chagall and Malevitch. Then moving to Paris he went on to exhibit with the Cubist group and the legendary "Section d'Or" group. In 1917 Apollinaire curated a major one-man show for Survage at Galerie Bougard. During the 1920's he created his renowned Cubist "Paysages" series. From the 1930's his compositions became increasingly surreal, regularly incorporating metaphysical symbolism.
Leopold Survage's groundbreaking series "Les Rythmes Colorées" from 1913 which he envisioned being transformed into an abstract animated film, but was never realised due to the outbreak of WWI, has now at last been digitally created.