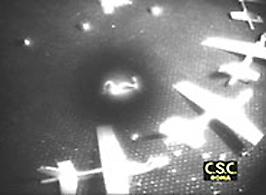 Pippo Oriani "Velocita"
21/02/14-01/09/14 Guggenheim Museum, New York
In conjunction with the Guggenheim blockbuster exhibition "Italian Futurism, 1909–1944: Reconstructing the Universe", the Guggenheim is showing Pippo Oriani's 1930–31 film Velocità. One of few remaining Futurist films, Velocità (also known as Vitesse) was directed by Pippo Oriani between 1930 and 1931. A montage of surreal and detached images, the film exemplifies the experimental nature of Futurist cinema. Speeding trains and whirring typewriters speak to the movement's love of velocity and mechanical devices, while toy airplanes soaring above collaged landscapes embody the national fascination with flight. [The film has been provided as a grant of the Oriani Foundation, Canada/Italy.]
This major exhibition is the first comprehensive overview of Italian Futurism to be presented in the United States, this multidisciplinary exhibition examines the historical sweep of the movement from its inception with F. T. Marinetti's Futurist manifesto in 1909 through its demise at the end of World War II. Presenting over 300 works executed between 1909 and 1944, the chronological exhibition encompasses not only painting and sculpture, but also architecture, design, ceramics, fashion, film, photography, advertising, free-form poetry, publications, music, theater, and performance. To convey the myriad artistic languages employed by the Futurists as they evolved over a 35-year period, the exhibition integrates multiple disciplines in each section.
"Italian Futurism, 1909–1944" is organized by Vivien Greene, Senior Curator, 19th- and Early 20th-Century Art, Solomon R. Guggenheim Museum.