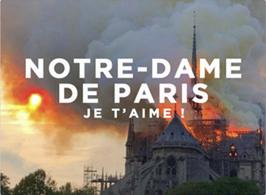 Notre Dame Je T'Aime!
16 April
French heritage fundraisers Dartagnans launch crowdfunding campaign for Notre Dame:
"It is with a heavy heart that on this day, April 15th, we have witnessed the Notre Dame cathedral being engulfed in a devastating blaze. Those pictures are unbeareable to look at. Centuries of history have been destroyed in a couple of hours. The spire and much of the roof have collapsed and more of the building is still at risk.
At Dartagnans, we have mobilized immediately by launching an emergency crowdfunding campaign to save a wonder of the Western world, loved by millions of people around the world. All the funds will be donated to Notre-Dame cathedral.
Saving and preserving heritage is our role, our mission and today we need you. Notre Dame belongs to the whole world. Today, our Lady needs our help.
Will you pledge your support in its hour of greatest need?
Thank you."
Join Dartagnans and their 130 000 musketeers engaged for the preservation of the cultural heritage!