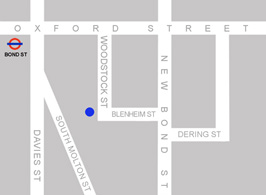 New HFA Mayfair Gallery
Opening 23 April 2014
Hanina Fine Arts is pleased to announce the opening of a new gallery on 23rd April at 21 Woodstock St, which incorporates Bonhams' recently redeveloped Bond St building, and is across New Bond St from Dering St known for its galleries such as Annely Juda.
New address:
HANINA FINE ARTS
21 Woodstock Street
London
W1C 2AP
T: +44 (0)20 7243 8877
E: contact@haninafinearts.com
Hanina Fine Arts has been dealing in twentieth century European art for over twenty years, and has established a reputation as leading specialists in the post-war School of Paris. Following a decade of private dealing in New York, Hanina Fine Arts was founded in London by the directors Yuval Hanina and Mary Hanina in 1992, initially encountering some resistance to his new modern gallery on Westbourne Grove, it went on to prove a catalyst for the transformation of the street into one of London's most chic shopping streets. In 2010 HFA opened a gallery on St George St in Mayfair which in 2013 became Sotheby's S2.