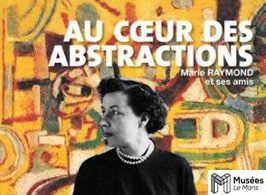 Marie Raymond @ Musée Tessé
19/5/21-19/9/21, Le Mans
"At the Heart of Abstraction: Marie Raymond"
Recently, the history of art has been rediscovering the endeavours and contributions of women artists to the art of the 20th century. Musée du Tessé has therefore especially devoted an important exhibition to Marie Raymond, one of the leading artists of Parisian abstraction from the 1950s.
Raymond has been unjustly treated in post-war history of art: the exhibition, "Au cœur des abstractions: Marie Raymond", hopes to remedy this by looking at all facets of the artist's life and work. Today, Raymond is known as a key figure of the post-war art scene and specifically for her painting, her art criticism and patron work as a supporter of the local art scene.
From 1945 onwards, she was an exponent of the new vein of abstract painting. She showed alongside Pierre Soulages, Hans Hartung, and Serge Poliakoff, and was friends with Nicolas de Staël. She also hosted weekly evenings in her studio, known today as "Mondays with Marie Raymond." In fact, during these Monday evenings, two generations of artists met and mingled in her studio/flat at the time: her fellow abstract painters of the 1950s, whom she supported wholeheartedly, as well as her son, Yves Klein, and his friends who questioned these same principles of abstraction and would later found the Nouveau Réalistes group in 1960.
By linking the works of thirty post-war artists with those of Marie Raymond, the exhibition charts abstract art in Paris between 1945-60 and shines a light on the essential roles played by women artists at this decisive moment in time.
Curator: Victor Vanoosten
Catalogue: "Au cœur des abstractions: Marie Raymond et ses amis", Éditions Arteos, 2021.
Exhibition Podcast (in French)

Exhibition Website