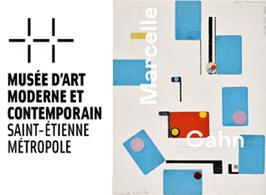 Marcelle Cahn retrospective @ MAMC
15/10/22-5/3/23, St Etienne
"MARCELLE CAHN: en Quête d'Espace"
The Musée d'Art Moderne et Contemporain in St Étienne presents a landmark retrospective of the artist Marcelle Cahn (1895-1981).
Born in Strasbourg, Cahn began her career at the edge of the expressionist and purist movements in Berlin before moving to Paris where she became a member of the avant-garde "Cercle et Carré" and "Abstraction Création" groups of the 1920's and 30s, regarded as one of the leading women artists. Her oeuvre evolved in the 1950s into a free abstraction, characteristically both whimsical and rigorous, of which the relief-paintings and spatial paintings of the 1960s are a remarkable achievement. From the infinitely small to the quest for a space that is sometimes architectural, sometimes poetic and musical, the artist has developed a refined and sensitive language, devoid of any dogmatism. This exhibition brings together more than 400 works and documents from public and private collections in France and abroad reflect the uniqueness of the artist.

Curator : Cécile Godefroy, historienne de l'art et commissaire indépendante
Assoc. Curators: Barbara Forest, conservatrice en chef du Patrimoine au MAMCS, et Alexandre Quoi, responsable du département scientifique au MAMC+.

In partnership with the Musée d'Art Moderne et Contemporain de Saint-Étienne Métropole (MAMC+) et le Musée des Beaux-Arts de Rennes.
A fully illustrated catalogue is availbale with contributions by Hanina Fine Arts.