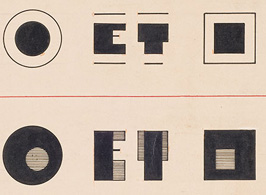 Marcelle Cahn: Cercle et Carre
12/10/13-05/01/14 Georgia Museum of Art, USA
This exhibition at the Georgia Museum of Art is devoted to the Cercle et Carré group, cofounded in 1929 by Pierre Daura, Joaquín Torres-García and Michel Seuphor to champion abstract art. This exhibition reunites some works from the 1930 Paris exhibition and includes work by 31 of the 46 participating artists. Complemented by the primary-source materials in the Georgia Museum of Art's Pierre Daura Center's archives, this exhibition makes an important contribution to understanding international abstract art in the period between the wars.

Cercle et Carré (Circle and Square) was founded in 1929 by Belgian artist and critic Michel Seuphor (1901–1999), Uruguayan-Catalan artist Joaquín Torres-García (1874–1949) and Catalan-American artist Pierre Daura (1896–1976). Consisting of about 80 artists, the group formed in opposition to Surrealism and, in its own words, to promote "structure and construction." Members including Wassily Kandinsky, Le Corbusier, Fernand Léger, Piet Mondrian, Kurt Schwitters, Sophie Taueber-Arp and Marcelle Cahn sought to develop the theories of abstract art first advocated in the circles of Russian Constructivism and Dutch De Stijl. In addition to publishing a periodical to broadcast its theories and feature its works, the group staged an international exhibition of abstract art in Paris from April 18 to May 1, 1930. Now recognized as a landmark event in the history of modernism in general and abstraction in particular, the exhibition included 130 works by 46 members of the group, diverse in nationality, style and medium.

Curator: Lynn Boland, Pierre Daura Curator of European Art.

Lenders: the Centre Pompidou in Paris and the Stedelijk Museum in Amsterdam, among other institutions.

Sponsors: The National Endowment for the Arts, the Irwin and Hannah Harvey Family Fund, the W. Newton Morris Charitable Foundation, the Friends of the Georgia Museum of Art and the Pierre Daura Center at the Georgia Museum of Art.