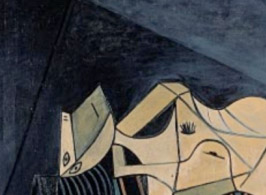 L'Art En Guerre: France 1938-1947
12/10/12-17/02/13 Musee d'Art Moderne, Paris
This major exhibition at the Musee d'Art Moderne de la Ville de Paris shows how artists profoundly changed the subject and form of art in France from 1938 to 1947, in a menacing context of oppression and deprivation, from Occupation and prohibition, to Liberation and retribution.
Artists from Picasso to Dubuffet are presented in eleven powerful themes focussing on key aspects of this intense historical period: 1) Paris 1938: Premonitions Surrealistes; 2) Dans Les Camps; 3) Exils, Refuges, Clandestinites; 4) Maitres Referents: Jeunes Peintres de la Tradition Francaise; 5) Picasso dans l'Atelier; 6) Au Musee National d'Art Moderne; 7) Le Salon des Reves de Joseph Steib; 8) Jeanne Bucher Galerie; 9) Liberation; 10) Decompressions; 11) Les Anartistes.
Hanina Fine Arts artists exhibited include: Jean-Michel Atlan; Jean Bazaine; Roger Bissiere; Camille Bryen; Jean Chauvin; Olivier Debre; Cesar Domela; Andre Fougeron; Henri Goetz; Auguste Herbin; Sigismond Kolos-Vary; Andre Lanskoy; Charles Lapicque; Jean Le Moal; Alfred Manessier; Edouard Pignon; Francois Stahly.