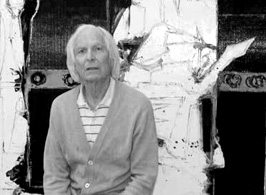 John Levée (1924-2017)
(18/1/17)
John Levée, one of the leading American artists in Paris during the post-war period, died on January 18th in Paris.

Having been born in California Levée attended the Institute of Art there with fellow students Mark Rothko, Clifford Still and Richard Diebenkorn, before finding himself in WWII as a pilot in the U.S. Air Force fighting to liberate France in 1944. Following which he went to New York to continue at art school with Stuart Davis and Abbe Rattner, and then obtained a grant to study in Paris on the G.I. Bill. He arrived back in Paris in 1949 and enrolled at the avant-garde Academie Julian in 1950 where he met fellow American artist Sam Francis. In 1951 he held his first solo exhibition at Galerie 8, and also began exhibiting at the avant-garde salons. Numerous exhibitions ensued including "Peintres les Americains en France" Galerie Craven in 1953, "Dix Jeunes Peintres de l'Ecole de Paris" Galerie de France in 1956, "Antagonismes" Musée des Arts Décoratifs in 1960, and the famous annual "L'Ecole de Paris" exhibitions at Galerie Charpentier from 1958-1961.

Levée quickly established an international reputation for his highly gestural heavily impastoed paintings, exhibiting at the Museum of Modern Art in New York in 1957 and 1958, the Whitney Museum NY in 1957, 1959 and 1965, Carnegie Institute 1958, Museum of Modern Art Jerusalem 1963, Phoenix Museum of Art Arizona 1964, Museum of Tel Aviv 1969, Palm Springs Museum 1977. Throughout this period he also held regular exhibitions at the New York art dealer Andre Emmerich and in London at Gimpel Fils. A major retrospective of the artist's work was held at the Musée d'Art Moderne in Toulouse in 1983.
His allegiance to Paris has left Levée unfairly excluded from American art history in recent years, but the quality of his abstract expressionist oeuvre stands for itself. A catalogue raisonné of the artist's work is currently in preparation. In his later years he tended towards a more hard edged graphic aesthetic, along with developing a reputation as a demon ping-pong player well into his old age. His wife died in 2003.

The artist is represented in numerous major museums of Modern Art worldwide including: Museum of Modern Art, New York; Solomon R. Guggenheim Museum, New York; Corcoran Gallery, Washington, D.C.; Santa Barbara Museum of Art, California; Yale University Art Gallery, Connecticut; Museum of Fine Arts, Ohio; Cincinnati Museum, Ohio; Museum of Contemporary Art, Texas; Carnegie Institute, Pennsylvania; Baltimore Museum of Art, Maryland; Washington Gallery of Modern Art; Walker Arts Center, Minnesota; Whitney Museum of American Art; Basel; Haifa; Tel Aviv; Musée National d'Art Moderne, Paris; Stedelijk Museum, Amsterdam.