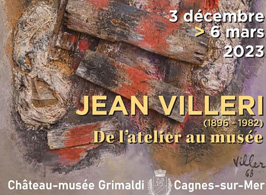 Jean Villeri @ Musée Grimaldi
03/12/22-06/03/23, Cote d'Azur
The Musée Chateau Grimaldi in Cagnes-sur-Mer presents for the first time the treasures of the Jean Villeri collection, unique in France.
A French painter of Italian origin (1896-1982), the important and rich work of Jean Villeri, which he himself described as "peinture sauvage" earned him the friendship and the respect of poets and designers including René Char and Jean Lescure. He has a special history with the city of Cagnes-sur-Mer, he decided to settle in Haut-de-Cagnes from 1940, living there until his death. Sensitive to impressionist and expressionist influences, he began by painting watercolors representing landscapes of the Côte d'Azur, then after several artistic encounters around 1930, he decided to embark on the path of non-figuration. Later incorporating raw materials often found at the edge of the shore which give his canvases the appearance of reliefs.

This exhibition. "Jean Villeri. De l'Atelier au Musée" presents more than thirty works as well as archives and photographs retracing, chronologically, this inventive painter's oeuvre from figuration to abstraction.