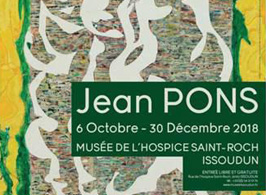 Jean Pons retrospective
6/10/18-30/12/18, Issoudun
"Art, like happiness is a risk"
The Museum of Saint-Roch presents a retrospective exhibition dedicated to the painter Jean Pons (1913-2005), whose Parisian renowned studio of lithography was frequented by major artists of the second half of the 20th century: from Bram van Velde to Appel, from Nicolas de Stael to Poliakoff, from Hartung to Lapique. This exhibition brings together almost 80 paintings and redraws the journey of a singular and sensitive artist, from the 1940s to the 2000s, gathered from private collections.
Known as one of the most talented and dedicated lithographers of the second half of the 20th century, Jean Pons had collaborated with artists of his time, from Bram Van Velde, to Karel Appel, Arp, Hélion, Lanskoy, Lapique, Delaunay, Debré… He graduated early from the Ecole Supérieure of graphic arts in Estienne, creating as soon as 1938 his studio in Paris. But he also was a painter during his throughout his life, following personal themes and techniques. The exhibition at the museum of the Saint Roch gathers almost 80 works from the painter Jean Pons, from diverse private collections and encompasses the whole of his creation and his different periods:

- During the years 1945-1947: Jean Pons painted and participated in multiple Salons (Salon des Indépendants, Salon des moins de trente ans, Salon des Tuileries, Salon d'Automne…). His figures evoke geometric shapes. his colour palette is frank and contrasted. Little by little, his painting evolves towards an abstraction more radical. He met Aimé Césaire who became his friend. He created from that time paintings inspired by his friend's poetry.
- Since 1950s: Jean Pons integrates with the group of painters in the Nouvelle École de Paris and participated in the creation, with Messagier, Estienne, Duvillier, Néjad, of the Salon Octobre in 1952. He presented his first personal exhibitions, at the Galerie Susanne Michel where he exhibits his works with ellipses), and also at the Galerie Colette Allende whose exhibition catalogue is prefaced by Michel Ragon. He exhibited more regularly besides artists from the COBRA group or with abstract painters with whom he collaborated: Lapique, Messagier, Istrati, Poliakoff…
- In the 1960s: Jean Pons painted with a growing freedom and in a more and more personal style. He freed himself from rules. He painted with sponges in which appear faces and human or animal silhouettes. He also practiced collage to evoke universes sometimes close to Max Ernst's.
- In the 1970s and 1980s: Jean Pons entrusted his Lithography studio to his daughter Babette and left Paris to Provence where he painted overtly. It's his most fecund period: paintings stand alongside collages. He painted using inks for lithography, thicker and more liquid, that he handled with " a pistol". He developed an iconography that he named "Mitraillomachie" evoking scenes with horses, scenes of war or combat, with a fluorescent coloured palette…
- In the 1990s and 2000s: installed in Eygalières in the South of France, Jean Pons pursued his work returning to the techniques he had practiced in the sixties, but with a more enlightened way where we can distinguish faces or horses' silhouettes.

Curators:
- Lydia Harambourg : historienne et critique d'art.
- Patrice Moreau, conservateur au Musée de l'Hospice Saint-Roch, Issoudun.