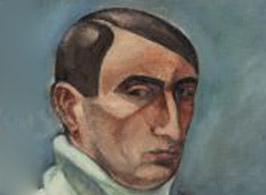 Henri Hayden: Ecole de Paris Master
20/09/13-31/12/13 Museum Villa La Fleur, Warsaw
This exhibition at the Museum Villa la Fleur in Warsaw is the first major retrospective of Henri Hayden (1883-1970) in his native country. Curated from private collections in Poland, France and Switzerland, the exhibition is divided into three periods.
The first from 1909 to 1922 in Paris shows the artist's early influence of Synthetism of the Pont-Aven school before evolving in the direction of Paul Cézanne, and the artist subsequently establishing himself as one of the most important representatives of Synthetic Cubism, working with the art dealer Léonce Rosenberg in the years 1916-1922.
The second period includes the inter-war years, when the artist diverged from the formulaic approach to Cubism, and spent much time working freely in the south of France painting landscapes, portraits and still lives.
The final part of the extensive collection concerns the artist's post-war oeuvre in which Hayden moved towards abstraction, adopting a vibrant palette whilst still retaining references to Synthetism and Cubism.