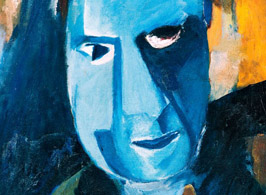 Hans Richter: The Crossing of the Century
28/09/13-24/02/14 Centre Pompidou Metz, France
A Dadaist pioneer of experimental film, painter, draftsman and writer, Hans Richter (1888-1976) stood at the confluence of avant-garde art as of the 1910s. Centre Pompidou-Metz is staging the first major retrospective in France of this Berlin-born American artist who helped shape the history of art in the twentieth century.

The exhibition retraces Richter's experience of the century step by step, from Dada in the 1910s and 1920s to its documenting in words and images by Richter in a new role as the historian of the avant-garde of the 1920s and of his own time.

Film is a catalyst throughout Richter's protean oeuvre; it is a meeting point where painting, drawing, typography, photography, even architecture, interplay. The films which Richter made using vast painted scrolls, influenced the modern architecture of Mies van der Rohe and Gerrit Rietveld.

This exhibition was organized by the Centre Pompidou-Metz and the Los Angeles County Museum of Art.
Curators:
Timothy O. Benson, Curator, Rifkind Center, LACMA, Los Angeles.
Philippe-Alain Michaud, Curator, Centre Pompidou, Musée National d'Art Moderne, Head of the Experimental Film Department. Assistant curator:
Cécile Bargues, art historian.