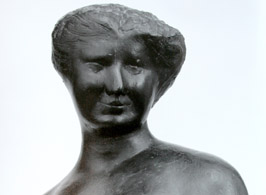 Emilio Greco: Sacred and Profane
25/09/13– 22/12/13 Estorick Collection, London
The centenary of one of the key figures of post-war Italian art, Emilio Greco (1913-1995) is celebrated in this substantial exhibition at the Estorick Collection of Modern Italian Art.
Greco was born in Catania, Sicily, where he was apprenticed at an early age to a stone mason and sculptor of funerary monuments. He taught sculpture in Rome, Carrara and Naples, but from the 1950s his own work increasingly received recognition.

Strongly influenced by Etruscan, Greek and Roman art, Greco is best known for his powerful classicised portrait busts and sensual nudes, often characterised by perfectly rounded heads. However, whilst life-size female figures dominate his oeuvre, Greco also received important religious commissions during his career, as did his contemporary Giacomo Manzù. These included a sculpture for St Peter's in Rome commemorating Pope John XXIII, and a set of monumental doors for Orvieto Cathedral that reveal debts to Renaissance masters such as Donatello in their subtle bas-relief modelling. Studies for both of these major projects will be on view.

In addition to a large number of works in bronze, this compelling exhibition also includes examples of Greco's characteristically vigorous yet elegant ink drawings – images reflecting the artist's profoundly sculptural sensibility in their marked concern with volume.