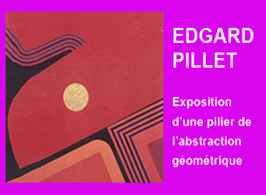 Edgard Pillet: Pillar of Geometric Abstraction
9/9/16-11/12/16 Eysins, Bordeaux
To mark the 20th anniversary of the death of Edgard Pillet, the Centre d'Art Contemporain d'Eysins pays tribute to this "pillar of geometric abstraction" with a substantial retrospective.
Edgard Pillet was one of the most progressive artists of post-war Paris, internationally acclaimed for pioneering a new style of geometric abstraction. He is also respected for his literary contributions on abstract art, not least as editor of the leading avant-garde journal Art Aujourd'hui, which was central to the cause. In 1950 he further championed the aesthetic revolution by founding with Jean Dewasne the influential Atelier d'Art Abstrait on the premises of the Academie de la Grande Chaumiere. In 1951 he co-founded the Espace group which was influential in championing post-war geometric abstraction.
Pillet would push the boundaries further when he produced an abstract animation "Genese", a thirteen minute film in which the "actors are straight lines, squares, rectangles and circles" and in 1954 he published a set of short stories called "ideograms" which took the form of an album of screen-printed geometrical compositions, each "story" is acted out by forms and colours.

From 1955-57 Pillet lived in America and spent much time exchanging ideas with American abstract artists such as Jackson Pollock. He took up a position at the Art Institute of Chicago, and held several exhibitions, before returning to France in 1957. He went on to create a ground-breaking series of "crucible" paintings on concave canvases.

In the 1960's and 70's the ESPACE group's call for the integration of abstract art into design and architecture came to fruition and Pillet received several commissions including for the BP building at Courbevoie in 1968, and the bold facade of Cacoub's science building at Grenoble University in 1969.

During his critically acclaimed career, Pillet held numerous solo exhibitions and international group shows including at National Museum of Modern Art, Rome; Cincinatti Art Museum; and the Museum of Modern Art, São Paolo; as well as Washinigton, Tokyo, Saigon, Bangkok, Djakarta, Algiers…

The artist is represented in numerous museums of Modern Art worldwide.