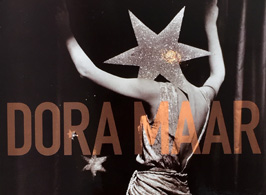 Dora Maar at the Pompidou
05/06/19-29/09/19, Paris
The Centre Pompidou presents the largest retrospective dedicated to Dora Maar (1907-1997) ever held in France. Although a well-known figure, Dora Maar remains an enigmatic artist, with crucial aspects of her career as a professional and surrealist photographer in the 1930s and subsequently as a painter still to be discovered. The exhibition showcases the breadth and proficiency of her work in an effort to reposition her as an artist in her own right, rather than regard her as model or muse— roles that she has historically been relegated to as a result of her intimate relationship with Pablo Picasso.
Featuring nearly 400 works and documents from more than 80 lenders, and drawing upon research conducted in the Dora Maar archives at the Musée National d'Art Moderne and other institutions, this landmark exhibition retraces the fascinating career of a free-spirited, independent Parisian intellectual: from opening her studio and working on her first fashion assignments to engaging with social and political concerns through her street photography, to exercising her surrealist vision and meeting Picasso on the cusp of his creating Guernica, to rediscovering painting later in life and returning to the artistic medium that first captivated her.
Exhibition curators:
Damarice Amao and Karolina Ziebinska-Lewandowska

The exhibition will be presented at Tate Modern later 2019 and travel to the Getty in spring 2020.