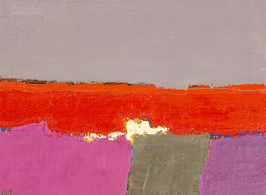 De Stael: Lumieres de Nord et Sud
07/06/14-9/11/14 Musee Malraux, Le Havre
To mark the centenary of de Nicolas de Staël's birth (he was born in Saint Petersburg in 1914 and died in Antibes in 1955), MuMa is holding the first exhibition focusing on landscape in the work of this major figure in mid-twentieth-century art. Light-filled and overlooking the sea, as well as being one of the temples of modern landscape painting Le Havre's modern art museum was designed during the very years when de Staël began to reintroduce figurative elements into his paintings, working in the Ile-de-France, the South of France and Normandy. In 1952, he painted some 40 pictures inspired by the landscapes of the Norman coastline.
In what was to be a meteoric artistic career, between 1942 and 1955 Nicolas de Staël produced a body of work widely acknowledged to be one of the freest of the post-war period. After an abstract phase, just as abstract art was prevailing, he moved on to a style of painting that reconnected with reality, nature and landcape, transcending the apparent opposition between abstract and figurative art.
This exhibition will comprise over 130 works (80 paintings and 50 drawings) produced between 1951 and 1955. A quarter of them have either never been exhibited at all or never been exhibited in Europe.
For this major event, works will be loaned by numerous private individuals and some of the biggest French, German and American public collections - the National Museum of Modern Art and the Bibliothèque Nationale de France in Paris, Dijon Museum of Fine Arts, the Musée Picasso in Antibes, the Musée Granet in Aix-en-Provence, and museums in Düsseldorf, Karlsruhe, Los Angeles, Milwaukee, Buffalo, Cincinnati and Charlotte.

Annette Haudiquet, Curator

Virginie Delcourt, Associate Curator

with the support of the Nicolas de Staël Committee