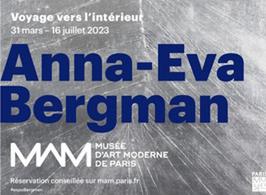 Bergman @ MAM Paris
31/3/23-16/7/23, Paris
"Anna-Eva Bergman: A Journey Within"
The Musée d'Art Moderne of Paris is presenting the first major retrospective devoted to Norwegian artist Anna-Eva Bergman (1909–1987). This key figure in postwar painting was a free, visionary artist whose work, characterised by the use of gold and silver leaf, is a powerful celebration of the beauty of nature, the landscapes of the Far North, and the Mediterranean.

Exhibited all over the world during her lifetime (notably at the Musée d'Art Moderne of Paris in 1977, but also in Italy, Germany and Norway), Anna-Eva Bergman nonetheless remains under-appreciated in Europe today. Her work, with its singular painterly language based on a vocabulary of pure forms, merits considerably more attention in art history terms.
With its panorama of her entire output, the exhibition Anna-Eva Bergman, A Journey Within brings a decisively new slant to the rediscovery of this major artist. Comprising more than 200 works, the exhibition follows in the wake of MAM's October 2019 retrospective devoted to Bergman's husband Hans Hartung.

As part of the exhibition, the museum is presenting N°2-1964 Stèle, acquired during the artist's lifetime, as well as the hundred or so works making up the Hartung-Bergman's Fondation remarkable donation to MAM in 2017. This ensemble is rounded off by photographs, drawings and archival documents from the Fondation's collections in Antibes, many of them never shown before.

In the Paris Musées catalogue edited by Hélène Leroy essays by French and Norwegian specialists detail the wealth of media used by Bergman and the highly individual deployment of metal leaf – gold, silver, aluminium, tin, copper, lead, bismuth – that became her maker's mark. Other essays look into Bergman's relationship to drawing and caricature, architecture and the golden mean, together with the exhibition and reception of her work after the war, and her kinship with the great masters of the past and such contemporaries such as Barnett Newman, Ad Reinhardt and Mark Rothko.

The Musée d'Art Moderne of Paris has collaborated closely on this project with the Fondation Hartung-Bergman in Antibes and the Nasjonalmuseet in Oslo, which will in turn devote an exhibition to Anna-Eva Bergman from 16 November 2023 to 25 February 2024.

Curator : Hélène Leroy