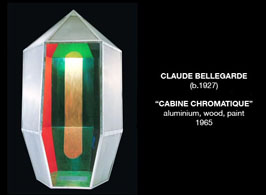 Bellegarde's Psycolor Cabins
28/10/15-28/03/16, Centre Pompidou Metz
Claude Bellegarde's "psycolor cabins" are a highlight of an exhibition exploring art and telepathy in 20th century art. Made in the 1960's, the artist intended the cabins with vibrantly painted interiors to recharge and re-generate the body and spirit.
[‪ "Claude Bellegarde, Cabine Psycolor, théorème", Gilles Bastianelli‬.]
"Cosa Mentale" is a unique exhibition at the Centre Pompidou Metz that offers a re-reading of the history or art from 1990 to modern day by exploring artists' fascination with the direct transmission of thought and emotion. It invites the spectator to re-live one of the unexpected adventures of modernity: telepathic art in the 20th century. This exhibition traces a chronological path from symbolism to conceptual art with a collection of some one hundred works by major artists, ranging from Edvard Munch to Vassily Kandinsky, and from Joan Miró to Sigmar Polke. These artists provide innovative ways of communicating with spectators that take us beyond conventional linguistic codes.
Curator:
Pascal Rousseau, professor of contemporary history of art at the University of Paris I Panthéon Sorbonne. Pascal Rousseau has also curated Robert Delaunay exhibitions: From impressionism to abstraction, 1906-1914, at the Centre Pompidou (1999) and To the origins of abstraction (1800-1914) at the Musée d'Orsay (2003).